OUR SOLUTIONS
Experience for yourself how data driven solutions
can turn your business around.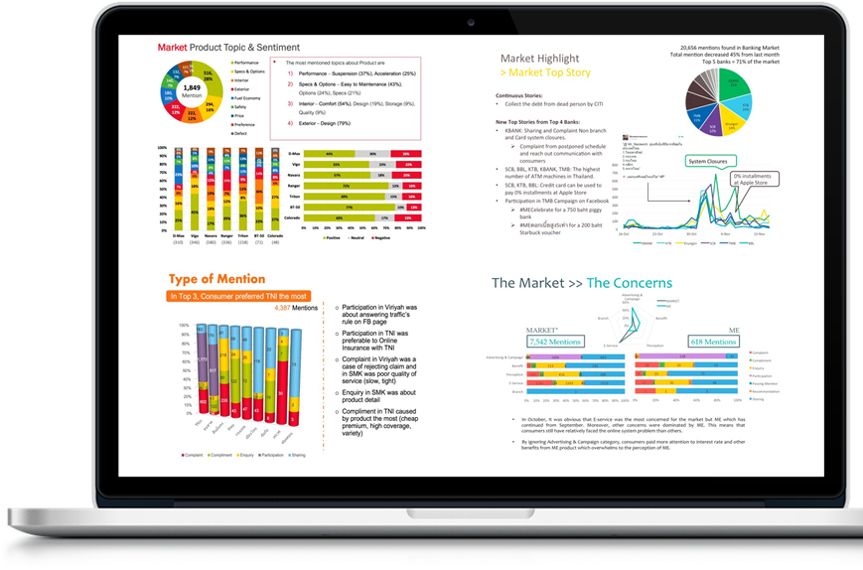 We become your one stop intel services arm, our unique methodologies get you actionable insights. Social listening and intel keeps your digital marketing initiatives relevant to your bottom line in the long run. It enables your brand to adapt pro-actively rather than realization after the fact. All reports are customized for your brand.
Brand Health Check: Your Brand vs Competitor Brands
Product Health Check: Your own products analysis and/or vs competitors
Content Performance Analysis: Audit your own content performance
Content Performance Analysis with competition strategy analysis
Audience Segmentation Analysis
Market trends analysis for corporate activities strategy
Overall industry performance study e.g. Fitness, Beauty, Automotive, etc
(GTM) Go-to-market precursory market and audience analysis
Any other custom objectives that will enable your goals can be crafted once our Consultants understand your needs.
BRAND & CRISIS MONITORING
We monitor your brand's health and in the event there is a crisis we will assist you monitor the issue closely so that you have eyes on the impact and rate of escalation in your time of need. We screen all unrelated chatter and send only relevant conversations that mention your Brand or Topic. In this service module we have your back, when you need it most. Coverage: all social media & online platforms (Eg: FB, TW, Forums, Blogs, News)
Hourly crisis status updates via preferred communication channels e.g email, WhatsApp, Telegram, LINE, WeChat, Signal, etc.
Daily crisis in progress escalation rate report
Daily/Weekly negative chatter monitoring intel report
End crisis post mortem report
Countermeasures include seeding efforts to mitigate crisis (if needed)
INFLUENCERS AUDIT OPTIMIZATION & MANAGEMENT
Thinking of using influencers and have no idea if they are the best fit for your brand? We provide a number of intel services that can address this gap.
Pre-appointment influencer list auditing
During campaign performance audit
Post campaign performance audit
Audience duplication analysis
Micro-KOL management services
Micro-seeders for brand advocacy programmes
INTEGRATED DATA RESEARCH
In the event you have burning questions that a single data set is unable to answer. Our consultants will collaborate with our data science team to craft an integrated approach combining multiple data sources and methods in order to arrive at the answer required to solve your query or give you a bigger picture on the overall situation of your brand or objective. Some examples of combined data are:-
Traditional media clippings data + Social data
Traditional Survey + Social data
Traditional Focus Groups + Survey + Social data
Client CRM data + Focus groups
Client database + Social data mapping and correlation analysis
E-commerce store + Social data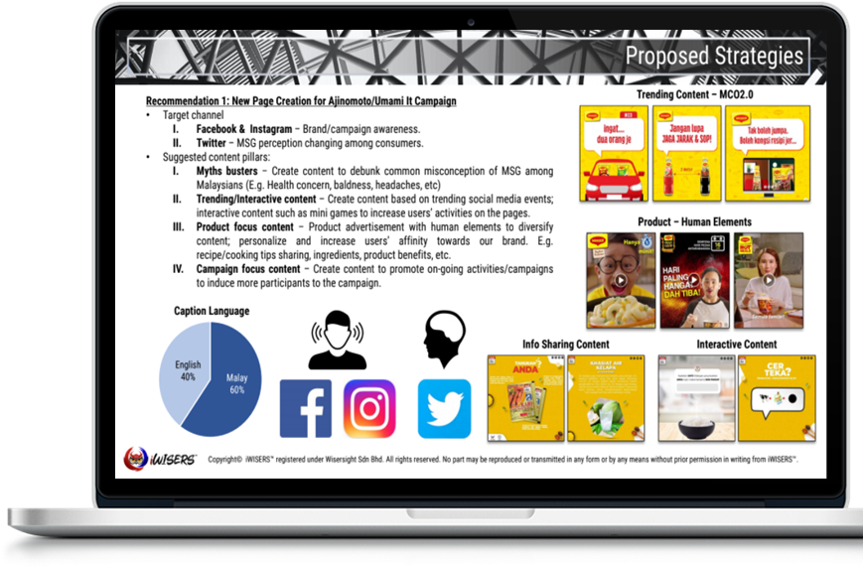 DIGITAL STRATEGY CONSULTING & MENTORSHIP
With our regional exposure working with eminent organizations, our consultants help our partners learn not only from their own industry but through best practices beyond their own reach, through our internal archives.
Digital transformation
Sales commissions structure, targets structuring and rate card
Organizational structure and employer branding scoring
Customer satisfaction trouble-shooting
Digital media playbook
Process playbooks by departments
Social media marketing tactics and management
Business process enhancements
Reporting and tracking mechanics standardization
Change management – coaching and mentoring one-on-one
Sales, operations, team building workshops
Depending on custom partner client objective our consultant will craft the correlated consulting support module.
DIGITAL ASSETS CREATION, MANAGEMENT & STRATEGY
Our full stack digital strategy and creation team uses intel to drive creatives.
Digital asset creation
Website development
Website development
Mobile app development (iOS, Android)
Page creation & management
Community Management
Campaign management
Content creation
Ads Management
SEO / SEM
Copy writing
Press releases
Virtual events
Depending on custom partner client objective our consultant will craft the correlated creative support module.